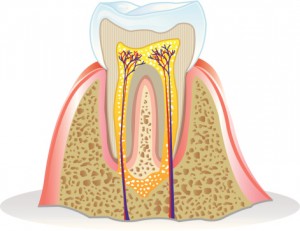 Root canal. Just the mention of this not-so-uncommon dental procedure can send shivers down the spine. Actually, however, you can save the shivers for the thought of losing a tooth because you didn't have a root canal. At Boston Smile Center in Brookline, MA, Dr. Alan Sasson combines modern dental anesthetics with a gentle touch to perform a practically painless root canal that will save your tooth and eliminate the pain associated with a tooth root infection.
At the center of your tooth is a soft tissue layer known as dental pulp. If this pulp becomes traumatized because of extensive tooth decay, a severe chipped or cracked tooth, or perhaps a hard hit to the face, then the pulp may become infected. In most cases, this infection causes indescribable pain, because the pulp is filled with nerve fibers, blood vessels and lymph tissues. Other symptoms may include:
Swollen gums around the tooth
Tooth discoloration
Tooth sensitivity to hot or cold
Left untreated, such an infection can lead to an abscess at the tip of the tooth's root or the infection may spread to the jaw and neck.
During a root canal, Dr. Sasson removes all of the infection and associated debris from inside your tooth and the root. The root is filled with medication and a biologically inert substance and is then sealed from further infection. Usually, this tooth will require a crown to protect the root canal. You'll care for this tooth like your others, with at-home oral hygiene and regular check-ups.
Call Our Office Today
If you or someone your care for is having a toothache, please don't delay having the tooth examined for whether or not a root canal is necessary. Schedule an appointment today with Dr. Alan Sasson at Boston Smile Center in Brookline, MA. Our office also serves patients from the surrounding communities of Chelsea, Newton, Somerville, Boston and Cambridge.