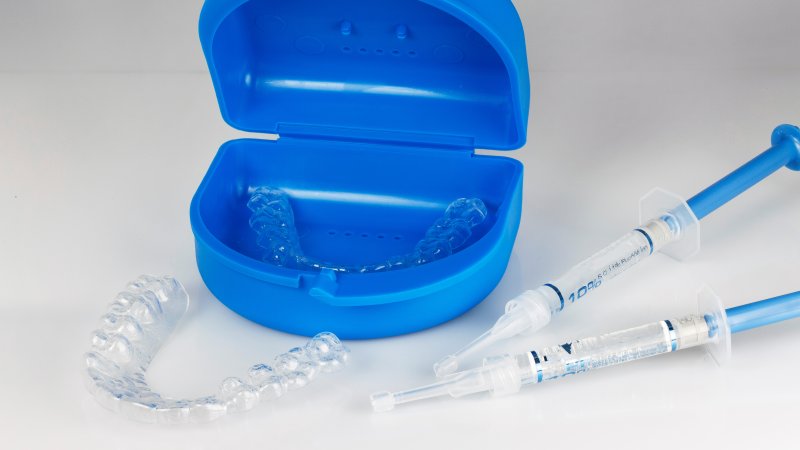 You might think personal teeth whiteners are identical. After all, don't these items all work the same way? However, the truth is quite the opposite: a professional kit will give you different results than a store-bought product. In fact, the latter has features that make it inferior to the former. As a result, you're much better off with a pro kit. Read on to learn the differences between a dentist's take-home teeth whitening and a store-bought version.
Professional Take-Home Whitening Kits
A dentist can give you a professional whitening kit to whiten your smile at home. This item would include special clear trays and an effective bleaching gel.
The process works by having you place the gel-infused trays over your teeth. More specifically, you would wear them for twenty minutes a day over two weeks. Once the fourteen days are up, you'll see that your pearly whites are six-to-eight shades lighter.
Store-Bought Teeth Whitening
In contrast to a dentist's kit, store-bought whitening products rely on more than one method. Of course, some use similar bleaching compounds to turn tooth enamel white. Others, though, include whitening toothpastes and strips that attempt to wear stains away.
The main draw of store-bought whiteners is that they're cheap and convenient. As such, many of them claim to provide great results without the hassle of seeing a dentist.
Major Downsides of Store-Bought Kits
Unfortunately, it turns out that store-bought whitening doesn't quite match with professional take-home kits. Consider the downsides below:
Their Ingredients May Be Unsafe
The LED whitening kits sold by stores use a combination of sodium bicarbonate and sodium chlorite. There's not enough research, though, to prove these products are safe to use with an LED light. If you try them anyway, you could damage your smile in the process.
Meanwhile, whitening toothpaste is known to erode enamel. Its abrasive materials can wear away your teeth until their protective layer is damaged.
They Contain Lower Concentrations of Bleaching Agents
In general, dentists are the only ones who can legally obtain and use higher concentrated bleaching agents like carbamide peroxide. Consequently, store-bought kits often only have 18% of the active ingredient. This level isn't high enough to achieve the same effect you would get from a dentist.
Results Aren't Long-Lasting
The lifespan of store-bought kits' results is often unreliable. Most can whiten teeth for about one to three months at most. On the other hand, professional teeth whitening can give you a whiter smile that lasts six months to a year.
Given these facts, it's best to use only professional teeth whitening kits approved by the American Dental Association (ADA). They'll transform your smile safely and effectively for the better!
About the Author
The Boston Smile Center is based in Brookline, MA. As led by Dr. Alan Sasson, the practice offers exceptional general and specialty dental services. In particular, its staff can perform high-quality preventive, cosmetic, and restorative treatments. The dental team is also a certified provider of Invisalign, Six Month Smiles, and other orthodontic procedures. For more information or to book an appointment, you can reach them on their website or by phone at (617)-739-1017.