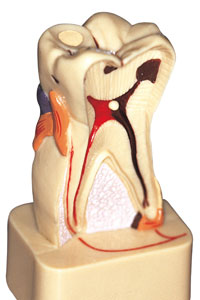 Out of all the dental procedures you could have to undergo, "root canal" is the phrase that strikes the most  fear in nervous patients' hearts. We've heard all our lives that root canal treatment is long, painful, and generally a nightmare all around. In fact, you may feel so anxious that you delay your treatment. While some of these rumors may have been true in the past, here at Boston Smile Center, we have the latest analgesics and technologies available to you, resulting in a root canal therapy procedure that is both comfortable and quick.  Dr. Sasson and his team are committed to making sure you get advanced and effective treatment at our Brookline, MA office, all while making sure to put your comfort and safety first.
What is a root canal, exactly?
Your tooth may look tiny, but it actually contains several layers – an outer coat of protective enamel, a second layer of dentin, and an inner pulp that is known as the "nerve" of the tooth. While this part of your tooth is usually well-protected by the other layers, a very deep cavity or an injury, such as a fracture, can leave the pulp exposed to possible infection. This can lead to a host of serious issues, even extraction of the affected tooth. However, if we catch it in its earliest stages, root canal therapy can save the tooth.
Okay, but is it going to hurt?
This is far and away the most common question anyone has concerning root canal therapy. Here's some good news – the answer is no! With the technologies available to us today, Dr. Sasson can complete your root canal therapy after only a few steps, including cleaning out the diseased canal, filling it with a biologically-inert substance, and sealing it so further infection can't reach it. In most cases, root canal therapy can even be completed in a single visit.
Root canal therapy doesn't have to be scary any longer, and it certainly shouldn't be avoided. Dr. Sasson and his team here in Brookline, MA are here to provide you with top-notch care, getting you back to smiling sooner. Call Boston Smile Center today to schedule your FREE consultation with Dr. Sasson, or feel free to peruse our website to learn about other dental procedures we can offer you.