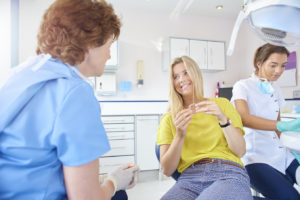 If you're considering smile alignment using Invisalign clear braces, you may be wondering whether or not you should budget for a cost that's a lot higher than traditional bracket and wire orthodontic treatment.  Luckily, innovation in the methods and materials used in the Invisalign treatment process means the price is similar to what you'd pay for traditional orthodontics. Even better news, many insurance providers are now offering coverage for Invisalign clear braces. In this post, we'll talk about some of the ways you can work with the right dentist to make Invisalign affordable in almost any budget.
Dental Insurance Coverage & Other Benefits
In recent years, dental insurance providers have started to offer coverage for Invisalign orthodontic treatment. Most benefit plans offer the same percentage of coverage for Invisalign, but because treatment is condensed into a significantly shorter time, patients can run into issues receiving coverage due to annual maximums. For this reason, we may recommend splitting treatment between two plan years to help patients make the most of their benefits. Patients whose benefits include flexible spending accounts (FSA) or health savings accounts (HSA) can use these funds to cover their out of pocket treatment costs. If you have questions about how dental insurance covers Invisalign, you should not hesitate to ask your dental team or call your dentist to learn more.
Financing Options & Payment Plans
Many dental practices offer patients financing options in office to pay for the cost of their care over the course of treatment. Most practices accept payment for Invisalign treatment on a monthly basis. If your dental practice doesn't provide this option, third party financing through healthcare financiers like CareCredit is another good option. These financiers offer low and no interest financing for qualified patients.
Meet the Boston Smile Center Team
At the Boston Smile Center, we work with patients on a regular basis to offer Invisalign treatment plans that fit their budgets. As an elite Invisalign Provider, you know you'll always receive the best possible Invisalign treatment from our dedicated dentists and team, but we believe quality dental care should be affordable too. That's why we offer Invisalign payment plans starting as low as $199 a month. If you're ready to find out more or get started, call the Boston Smile Center to schedule a consultation visit in our Brookline dental office. If we determine Invisalign is the best option to meet your needs, we'll get started aligning your smile as soon as possible.