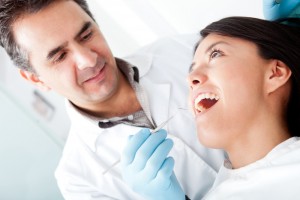 It is likely that you've heard a fair bit about fluoride, whether on the news or in commercials for popular toothpastes. With the wealth of information available online and on television, it's often difficult to decipher the truth from the hype when it comes to something as controversial as fluoride. At Boston Smile Center in Brookline, MA, Dr. Alan Sasson and his team offer our patients proven, accurate information regarding all aspects of oral health, including the role that fluoride plays in the state of your teeth.
How Fluoride Fortifies Your Smile
Fluoride is derived from an element called fluorine that occurs naturally in sedimentary rock in our planet's crust. When fluorine comes into contact with water, it ionizes into what we know as fluoride. It is present in the water we drink and the food that we eat, providing essential structural stability to our bones and teeth.
At your dentist's office, topical fluoride is used to bolster the strength of your enamel, remineralizing your teeth and protecting them from decay. When the bacteria that comprise plaque produce acid, demineralization occurs. Without adequate fluoride, phosphate, calcium, and other minerals to remineralize the enamel, tooth decay becomes a very serious problem.
As with any of our cosmetic, restorative, or general dentistry services, we invite our patients to ask any questions they may have regarding fluoride and its role in dental health. Our top priority is keeping your teeth and gums healthy and strong for a lifetime of beautiful smiles.
Schedule Your Appointment Today
Has it been more than six months since the last time your teeth and gums were examined and cleaned at your dentist's office? If so, it is time to contact our office and schedule your next visit. At Boston Smile Center in Brookline, MA, Dr. Sasson and our caring, experienced team offers a comprehensive menu of general dentistry services, as well asrestorative, cosmetic, and implant dentistry procedures. From our conveniently located office in Brookline, we happily welcome patients from nearby communities in Newton, Chelsea, Somerville, Cambridge, and beyond.