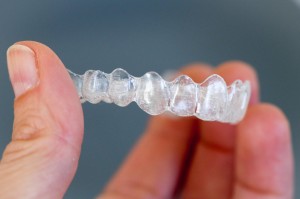 For teens and adults who want a straighter smile but don't want to deal with the appearance or challenges of traditional braces, the Boston Smile Center offers the alternative solutions you need. Using Invisalign to correct alignment issues, you'll discreetly straighten your teeth without the unsightly appearance of wires and brackets. We combine Invisalign with Accelerated Orthodontics to increase the rate of results for a shorter treatment time. If you're ready for a straighter smile, check out Accelerated Orthodontics with Boston Invisalign from the Boston Smile Center.

Benefits of Invisalign
Invisalign is an advancement in orthodontics that allows you to correct certain alignment and bite issues using a series of clear plastic trays to move the teeth into their correct alignment. The clear plastic trays are nearly invisible, making them ideal for teens and adults who don't want to have traditional braces. Invisalign is proven effective for resolving alignment issues in less time than traditional braces. As a result, you'll have straighter teeth sooner with less trips to the dentist.
At Boston Smile Center, we further enhance the results of Invisalign while decreasing the amount of time needed for treatment using Accelerated Orthodontics.
Accelerated Orthodontics for Straighter Teeth
Using the latest innovations in orthodontics, we are able to decrease the treatment time by as much as 50 percent using Accelerated Orthodontics, which works perfectly with Invisalign. We offer two different methods to decrease your treatment time when choosing Invisalign to straighten your teeth.
PROPEL
PROPEL is a cutting edge treatment for adults looking for orthodontic treatments to fix their teeth. This method to orthodontics is compatible for both traditional braces and Invisalign, allowing you to have straighter teeth in just 3 to 10 months. As the first dental practice in the Boston area to offer this state-of-the-art treatment, you'll have an unbeatable smile in less time. PROPEL works by stimulating the bones that support the teeth, allowing them to move into their correct positions quicker. This means less trips to the visit and results sooner for a more attractive smile.
AcceleDent
AcceleDent is a hands-free orthodontic device that's used for about 20 minutes each day. The device is placed in your mouth as you go about your day. The device uses small micropulses, which are used to stimulate the teeth to move them into place quicker. As a result, you'll see the results you want in less time as you achieve your dream smile.
At Boston Smile Center, we make it our mission to see you smile, while giving you the perfect smile you've always wanted. Using the best technologies and advancements in dental care, we'll deliver customized orthodontic treatment plans to allow you to have straighter teeth in as little time as possible. If you're looking for Boston Invisalign, choose a dental practice that can shorten your treatment time without compromising the quality of the results. We'll give you a beautiful, radiant smile in less time using the best advancements in orthodontics. Contact us today to schedule a consultation.