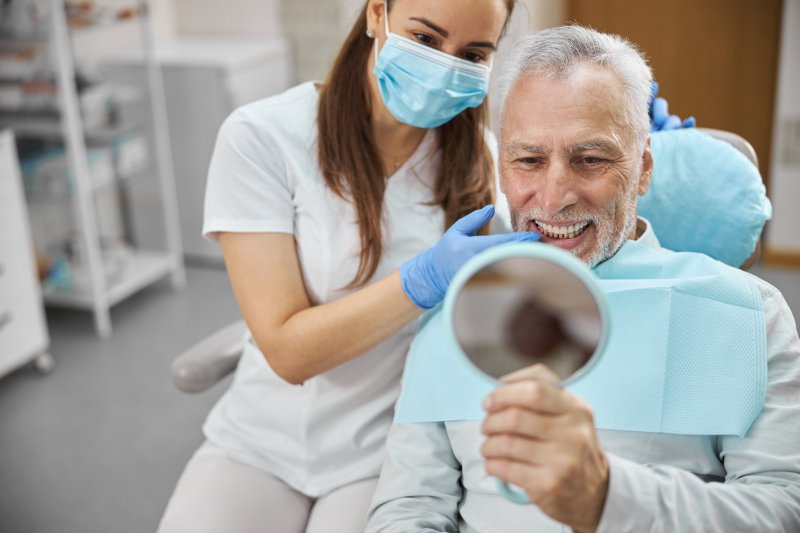 If you're getting on in years, chances are you've lost a tooth or two. That's only natural – tooth loss is common among senior adults. Still, perhaps you believe you're too old for dental implants. "After all," you may think, "surely an aging body can only handle so much." The reality, however, is that people of all ages can benefit from implants. In fact, your Local Boston dentist can prove this claim. To that end, here's a summary of just why implants have no age limit.
Can You Be Too Old for Dental Implants?
Contrary to stereotype, you won't "age out" of being a dental implant candidate. Placed implants heal as well in 85–90-year-olds as they do in younger patients. Plus, the effectiveness of these teeth has nothing to do with your years. Implants will thus leave you better off, even if you're over a hundred.
Recent research backs up these facts. A 2004 study, for instance, concluded implant patients over and under 80 had the same success rates after five years. Furthermore, most dentists now suggest implants are the best option for seniors.
How Do Implants Work for Seniors?
Of course, a dentist must still ensure you qualify for implant surgery. That means they'll review your oral health, bone health, and so on. (Successful placement depends on a healthy mouth.) Should these factors look good, though, your implant treatment should proceed like any other.
Keep in mind that older folks recover from implant work more slowly. A senior's body, you see, needs more time to heal from surgeries. That said, any post-treatment discomfort will still only last 3-5 days. Patients can treat that issue with over-the-counter painkillers.
What are the Benefits of Implants?
As a senior, you'll likely find implants' benefits especially enticing. Typical ones include the following:
A More Lifelike Smile: Since implants fuse with the jawbone, they're permanent and secure. In other words, they won't slip or fall like a denture might.
A Youthful Face: Tooth loss is often accompanied by facial collapse. However, implants can prevent and reverse the latter. Their fusion with your jaw corrects bone loss and keeps your face looking full and vibrant.
Easier Eating: Implants stay secure and strengthen your jaw, restoring your bite force. That being the case, they'll allow you to eat many of your favorite foods again.
Ultimately, you can always trust that you're never too old for dental implants. Therefore, give some serious thought to seeing your dentist for treatment!
About the Practice
The Boston Smile Center is based in Brookline, MA. Led by Dr. Alan Sasson, our practice emphasizes effective and customized dentistry. To that end, we perform preventive, cosmetic, and restorative services tailored to each patient's smile. Naturally, then, you can trust us to place dental implants no matter your age! For more information or to book an appointment, you can reach us on our website or by phone at (617)-739-1017.