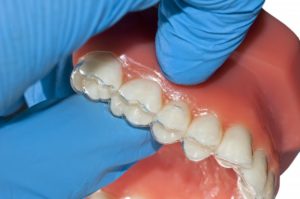 No matter what your age is, it's never too late to fix your orthodontic issues and gain confidence in your smile. Fortunately, with the latest dental technology and techniques, your dentist is able to offer a variety of options for adult braces in Boston that aren't cumbersome and highly noticeable, unlike traditional metal braces. Not to mention, these treatments are also fast and incredibly effective. Read on to learn about four treatments to help you achieve a straighter smile in 2020 without drawing attention to the orthodontic appliance you're wearing.
Invisalign Clear Braces
Invisalign in Brookline is a versatile orthodontic treatment that can fix minor to moderate bite problems, misalignment, crowding, gaps, and asymmetry. The treatment uses clear aligners that are custom-fitted to comfortably fit over your teeth to gently shift them into their ideal positions. It uses the same strategy as traditional braces, but you don't have to endure uncomfortable and unnoticeable brackets and wires. Plus, since the Invisalign trays are removable, you'll be able to eat what you'd like throughout the treatment.
Six Month Smiles
Six Months Smiles is an accelerated orthodontic solution used to improve the appearance of your smile by focusing on aligning your visible teeth instead of your entire mouth. The appliance is customized for your mouth and uses clear brackets and tooth-colored wires to make your smile more symmetrical and straighter. One of the best advantages of this treatment is that it takes place over the course of anywhere from three to eight months, plus, it's completely discreet.
Insignia Braces
Insignia is an advanced orthodontic system that takes the idea and effectiveness of traditional metal braces and improves the experience. Unlike traditional orthodontics, Insignia uses computer-assisted impressions and designs to create the perfect bracket and wire system customized to each patient's needs. Plus, the precision and accuracy of Insignia help reduce the number of adjustments you'll need during your treatment. By using the latest technology, Insignia is able to provide you with a more comfortable and personalized braces system.
Clear Damon Braces
The Damon Clear system uses something called a "passive" slide mechanism to keep the wire of your braces in place. This provides a variety of benefits, such as greater comfort due to less friction. Not only does this orthodontic system align your teeth, but it also improves your facial appearance. The brackets are hardly visible, which allows for more discretion during your treatment. Clinical studies have shown that the effective Damon Clear system is up to six months faster than traditional braces. It's also a great solution for people who are at risk of frequently losing clear aligners.
No matter how mature you are, straightening your teeth and improving orthodontic issues is a great way to boost your confidence and help you regain your desire to socialize. The first step to take to learn what treatment can best benefit your needs in 2020 is to visit your dentist in Brookline for a consultation.
About the Author
Dr. Alan Sasson has always been passionate about helping his patients regain confidence in their smiles. That's why he offers a large variety of orthodontic treatments for both teenagers and adults. He is a current member of the International Academy of Dental Facial Esthetics as well as the International Association of Orthodontics. To learn what treatment can help you achieve fast and long-lasting beautiful results, visit his website or call 617-739-1017.