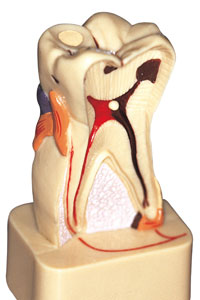 Out of all the dental problems that a person can experience over their lifetime, "root canal" is often the phrase that strikes the most fear into patients' hearts. Over time, root canal treatment has inexplicably garnered a reputation for being an invasive and outright unpleasant procedure – so much so that many people willingly avoid the process. Here at Boston Smile Center, Dr. Sasson and his team want to be the first ones to assure you that root canal therapy is a perfectly reasonable and comfortable procedure that can restore health and form to teeth that would otherwise need to be extracted. Its success rate is through the roof, too!
How do I know if I need a root canal?
Common signs that could indicate the need for root canal therapy include:
Severe pain that occurs when chewing or applying pressure to one or more teeth
Gums that look tender, red, or swollen
Excessive sensitivity to hot or cold temperatures
A sudden discoloration (usually darkening) of a tooth
What happens during root canal therapy?
First, Dr. Sasson will create a small opening in the affected tooth in order to clean it thoroughly of all the bacteria and diseased pulp and then fill it with a biologically inert substance. Once this is complete, he and his team will seal the area to protect it from further threats of infection. In most cases, a custom-made crown is placed as well in order to restore the tooth's full form. With today's advanced technology and techniques, many patients find root canal therapy so comfortable that they even doze off!
Contact The Boston Smile Center today to schedule your FREE consultation with Dr. Sasson. Our team works hard to ensure that all our patients feel comfortable and cared for when they visit our Brookline office, and it shows!