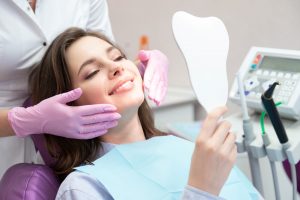 Many people wish they had perfectly white, straight smiles but avoid the dentist out of anxiety. Often there's a perception that any type of dental work is invasive and painful. Fortunately, cosmetic dentistry provides several treatment options that don't require surgeries or long recovery times. Keep reading to learn about 3 minimally invasive ways your dentist can address aesthetic imperfections in your teeth!
Method #1: Cosmetic Dental Bonding
If you're unhappy about cracked or slightly misshapen teeth, or small gaps between them, then dental bonding might be the solution for you. Your dentist can apply tooth-colored resin to your teeth and model it into the perfect shape. This material is then hardened into place with a curing light. This simple and effective treatment only takes about an hour to complete, and the results could last up to 10 years!
Method #2: Teeth Whitening
Do you long to brighten your teeth or get rid of discoloration? While there are plenty of commercially available products that all claim they can lighten your teeth, they come with some risks. It's not uncommon for people to use them incorrectly and end up with gum sensitivity. In other cases, they simply don't get the results they hoped for. Thankfully, your dentist can help!
Many dentists offer in-office teeth whitening services using professional-grade materials that minimize sensitivity. That means in one short visit, you can remove years worth of surface stains! Some practices even go the extra mile and provide take-home kits with custom-fitted trays so that you can get quality results from the comfort of your own home.
Method #3: Invisalign
If your pearly whites don't all line up perfectly, you're not alone! Many patients want to straighten their teeth but don't want to deal with the discomfort of having metal braces installed. Not only that, but trying to clean your teeth with braces in place can be quite challenging with all those wires and bands to account for.
Fortunately, Invisalign can achieve similar results without the hassle! These clear, plastic aligner trays fit over your pearly whites to gently push them to their ideal positions. They're much less visibly intrusive than the traditional alternative, and usually work faster, too. Treatment can be completed in as little as one year, as opposed to several. Also, they can be removed and replaced easily for cleanings so dental hygiene isn't a concern.
With cosmetic dentistry, your dentist can give you the smile you deserve without any invasive procedures. What a relief!
About the Practice
Our caring dental team at Boston Smile Center has been providing a full array of dental services to patients in the Greater Boston area for over 35 years. Dr. Sasson is one of only a few dentists to earn a Fellowship with the International Academy for Dental Facial Esthetics, making him an expert on cosmetic dentistry procedures. If you're interested in repairing flaws in your smile, you're welcome to request an appointment on our website or call (617) 739-1017.