"Fast" Braces Technology in Brookline, MA for all of Boston
At Boston Smile Center, we're dedicated to offering our patients the latest advances in dental care, including accelerated braces. With accelerated orthodontics, we can shorten your orthodontic treatment time by as much as 50%. The accelerated options we offer work seamlessly with our Invisalign® Clear Braces and our Damon/Insignia Custom orthodontic treatment systems.
We have available two exciting products: AcceleDentAura and Propel®. Visit us for a no charge consultation to learn how you can benefit from one of these cutting edge technologies. You can be on your way to a straighter whiter smile in much less time than ever before.
Propel Orthodontics
To learn more about how Dr. Sasson and Boston Smile Center are different from other offices providing adult orthodontic treatment, please select this link to watch a brief video.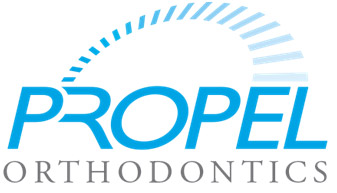 At Boston Smile Center, Dr. Sasson continually strives to provide the very best cutting-edge solutions for our patients. We're excited to be one of the first dental practices in our area to offer the FDA approved PROPEL® technology.
PROPEL® will shorten orthodontic treatments for both braces and clear aligners by almost half the time. This has become a game changer for our adult patients! While each patient varies, many are now able to complete their orthodontic treatment in just 3-10 months. Even if you have already begun treatment, adding Propel will dramatically shorten the expected treatment time.
PROPEL® works with the patient's own biology by stimulating the bone surrounding the teeth, allowing the teeth to move faster and more predictably into their ideal position. PROPEL® requires few office visits and allows our adult orthodontic patients to see their new smiles faster than ever.
PROPEL® is so versatile that we can include it with our Insignia and Damon Clear braces, Invisalign® clear braces, STb and Six Month Smiles® adult orthodontic treatments.
At Boston Smile Center, we always offer complimentary consultations and include free teeth whitening at the end of your treatment, plus a free water pic during treatment to keep that radiant smile bright. Contact our office today to schedule your complimentary, confidential consultation.
Acceledent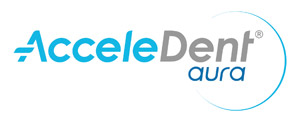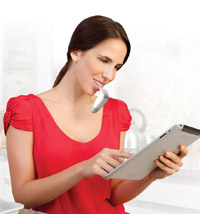 AccelDent is a hands-free device, as you can see in the image above. It's used 20 minutes daily. While the device is in your mouth, you can go about your daily routine while its patented SoftPulse Technology generates small micropulses that will stimulate your teeth to move faster.